Events
---
GEORGETOWN LOMBARDI SURVIVORSHIP RESEARCH INITIATIVE SEMINAR SERIES PRESENTS: Improving Equitable Health Outcomes in Cancer: Catalyzing Transdisciplinary Scientific Collaborations to Transform Practice and Policy
Friday, August 11th, 2023 | 10:00AM-11:00AM EST | Zoom Link: https://georgetown.zoom.us/j/94035234755 (new window)

Presented By: Alyce Adams, PhD
Stanford Medicine Innovation Professor | Professor of Health Policy, Epidemiology and Population Health | Associate Chair for Health Equity and Community Engagement for Stanford Health Policy | Associate Director for Health Equity and Community Engagement in the Stanford Cancer Institute | Associate Director for Stanford Impact Labs

Immediately following the SRI seminar, there will be a 30 minute Meet the Professor session, which will provide attendees an opportunity to engage in Q&A and discuss specific research subjects with Dr. Adams.
---
16th AACR Conference on The Science of Cancer Health Disparities in Racial/Ethnic Minorites and the Medically Underserved
Sept. 29 – Oct. 2, 2023 | Disney's Grand Floridian Resort | Orlando, FL
Submit an abstract by June 13 to present your work at the premiere cancer health disparities meeting. This conference brings together professionals from academia, industry, government, and the community to promote the exchange of novel ideas, discuss the latest findings in the field, and stimulate the development of new research on cancer health disparities.
---
The Gerontological Society of America: Diversity Mentoring and Career Development Technical Assistance Workshop
October 12 and 13, 2023 via Zoom | 12 to 5 p.m. ET
See flyer below and visit geron.org/DMCW for more information.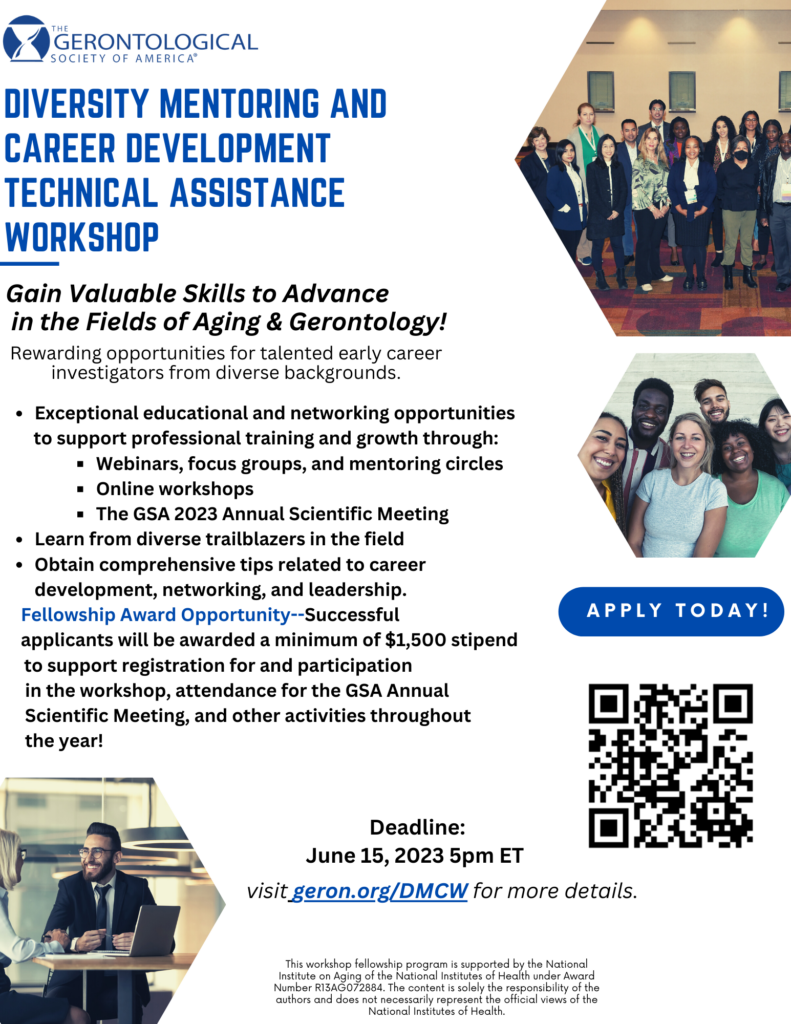 ---
Previous Events:
Cancer, Aging, and Comorbidities Webinar Series
Organized by the National Institute of Cancer in collaboration with the National Institute on Aging, this webinar series aims to facilitate the understanding of the complex roles that aging and comorbidities play in mechanisms underlying cancer response, cancer treatment, and survivorship.
The seven webinars will be delivered monthly from January 27 to July 14, 2023. Sessions will last 60 minutes, including a total of ~ 40 minutes of presentations and a ~ 20 minutes moderated-panel discussion.
---
The University of Maryland School of Medicine, Center for Research on Aging presents:
Focus on Aging Research: "Aging and the Brain"
Thursday, March 23, 2023 | 4:00-5:00 pm
The "Focus on Aging Research" seminar series is a forum to share geriatric and gerontological research around a common theme but from different disciplinary and professional perspectives.
You must register via zoom link below for this virtual event:
https://umaryland.zoom.us/meeting/register/tJwrcu-ppjMuE9bAbCVA5nviPEokM8LcIyWE (new window)